29th December 2006
Nigel Short joins the Forum
GM Nigel Short MBE, Commonwealth Chess Champion, President of the Commonwealth Chess Association, winner of the EU Championships 2006 (Liverpool) and English Champion has just joined our Forum.

Nigel is a noted chess writer. He has written columns and book reviews for the British newspapers The Sunday Times, The Daily Telegraph, the Daily Mail and The Spectator. He wrote The Sunday Telegraph chess column for a decade. He most recently wrote for The Guardian. His final column appeared on October 19, 2006. He also reported on the FIDE World Chess Championship 2005 in San Luis, Argentina, for ChessBase.
Nigel has individually coached young prodigies Pentala Harikrishna, Sergey Karjakin, David Howell and Parimarjan Negi. His first team assignment, with the Islamic Republic of Iran, led to them taking bronze medal at the Asian Games in Doha, Qatar, in 2006. He has enjoyed considerable success as a match player too, crushing the US Champion Lev Alburt in Foxboro 1985 by the score of 7-1 (+6,=2). He has also defeated Utut Adianto (+3,=3) in Jakarta 1995, Etienne Bacrot in Albert 2000 (+3,=2,-1), Hannes Stefansson in Reykjavík 2002 (+4,=1,-1) and Ehsan Ghaem Maghami in Tehran 2003 (+2,=4) [read more]
6th December 2006
David Ionovich Bronstein, February 19, 1924 - December 5, 2006

Bronstein at 77
Widely considered to be one of the greatest post-war players not to have won the world championship (an accolade he shares with the likes of Paul Keres, Victor Korchnoi and Bent Larsen), he came agonizingly close to his goal when he drew the Moscow challenge match for the title of world champion by a score of 12-12 with Mikhail Botvinnik, the reigning champion. Bronstein led by one point with two games to go, but lost the 23rd game and drew the 24th and final game. Under FIDE rules, the title remained with the holder, and Bronstein was never to come so close again.
Bronstein learned chess at age six from his grandfather. As a youth in Kiev, he was trained by the renowned International Master Alexander Konstantinopolsky. He achieved the Master title at age 16 for his second-place result in the 1940 Ukrainian Championship, behind Isaac Boleslavsky, who became a very close friend and chess companion. His first international tournament success occurred at the Saltsjöbaden Interzonal of 1948, which he won. He qualified for the Candidates Tournament of 1950 in Budapest, becoming the eventual winner over Boleslavsky in a (Moscow) 1950 play-off. The period 1945-50 saw a meteoric rise in Bronstein's development, as he prepared for the world title challenge match, in 1951 ... more
More tributes on Chessbase, TWIC and our forum. And also more links from John Saunder's BCM site: The Guardian (Leonard Barden), ECF (Stewart Reuben), Daily Telegraph, The Times, The Independent (Bill Hartston) and Google News.
5th December 2006
.

.


Vladimir Kramnik lost his 6 game match against Deep Fritz 10. He never seemed to recover from his 2nd round careless mate in one, defeat. To be fair he did demonstrate ways to combat the computer with splendid endgame play but it appears he was simply out-gunned overall. He won't feel too bad however now that he's tucked away another £250,000 or thereabouts. Not bad for 10 or 11 days 'work'. Kramnik played a very spirited final game and it was a very double-edged encounter, with the computer playing some unusual and deep ideas to gain the upper hand and win the game on move 47. The event was staged from November 25th until December 5th in the National Art Gallery in Bonn. It was sponsored by RAG AG, one of Europe's largest energy companies. If Kramnik had won the match he would have taken home a hefty prize of one million US dollars (£505,204) but got half of that even though he lost. Full reports of each round with excellent photos and analysis and downloads on Chessbase. More reports and details also available on the Official website.
| | | | | | | | | |
| --- | --- | --- | --- | --- | --- | --- | --- | --- |
| . | Rating | 1 | 2 | 3 | 4 | 5 | 6 | . |
| Deep Fritz 10 | - | ½ | 1 | ½ | ½ | ½ | 1 | 4 |
| Vladimir Kramnik | 2760 | ½ | 0 | ½ | ½ | ½ | 0 | 2 |
Parliament & City Council welcome chess triumph by Prof. David Robertson
The recent EU Individual Open tournament, held this September in Liverpool, has already attracted widespread favourable coverage in the national Press. Now the politicians are joining in. Last night (Oct 17) at Westminster, chess-playing MP, Angela Eagle sponsored an Early Day Motion (EDM) in the House of Commons:
Angela Eagle MP wrote:
That this House welcomes the recent outstanding success of the International Chess Tournament held in Liverpool between 6th and 15th September noting that this was the first international chess tournament held in the UK since 1986 and the first in Liverpool since 1923; recognises the sponsors including Liverpool John Moores University, the Mersey Partnership, the World Museum and the Liverpool Culture Company for their support for the event; believes that this was a major boost to Liverpool's reputation not least because it received massive internet exposure by the live transmission of the matches on the tournament website which was visited by 8.6 million people from 104 different countries, 1.25 million people logged on to the live transmission on the final day, 76 per cent. of whom stayed online for an hour or more; and congratulates British Grandmaster Nigel Short on winning the tournament in a strong field of international players as well as recognising the Grandmaster norms achieved by two young British players.
An EDM is a technical device by which backbench MPs can propose matters of national importance to be debated by Parliament. In practice, none ever reach that point because Government business takes up all the available time. So an EDM has become a means by which substantial matters can be tabled to which MPs add their signature if they support the motion. Most EDMs attract maybe twenty signatures. The fact that this EDM has already attracted 45 on its first day is well above par. For the details so far, see here:

http://edmi.parliament.uk/EDMi/EDMDetails.aspx?EDMID=31401&SESSION=875

Most of the signatures so far are Labour MPs, no doubt reflecting Angela Eagle's lobby on our behalf. But it needn't stay that way, and probably won't. If you would like your own MP to sign, send him/her an email drawing the EDM to their attention. It all helps.

So does the motion being debated tonight (Oct 18 ) by Liverpool City Council. This says:
Liverpool City Council wrote: INTERNATIONAL CHESS TOURNAMENT
Council welcomes the success of the recent International Chess Tournament in Liverpool and congratulates the organisers and participants for their efforts.

In light of the unprecedented international interest in the event shown by coverage of the tournament in the Press and on the Internet, Council calls on the Chief Executive to report on the steps which can be taken to assist the organisers continue their work to:

• Organise further events, in particular in 2007 & 2008;
• Promote interest in chess in the city, particularly among young people;
• Promote Liverpool as a city with a particular interest in chess, advocating the wider cultural, educational and economic benefits this can bring.

All of this interest and support needs to be followed up skilfully and with political adroitness. I'm doing my best of course. But we have much more to do. So far, so good though.
UPDATE
As of this morning (Oct 19), 58 MPs have now signed the Early Day Motion, including members of all main political parties and some minor parties too. And last night, Liverpool City Council unanimously approved the motion on chess development in the city.
13th October 2006
Vladimir Kramnik undisputed World Champion
In a dramatic fourth game of the rapidplay tiebreak match Vladimir Kramnik defeated Veselin Topalov to win the World Chess Championship. The first game had ended drawn after 47 moves. They then both won a game, Kramnik game 2 in 45 moves and then Topalov game 3 in 50 moves. In the final game Kramnik gradually outplayed Topalov and with two passed pawns the win looked almost inevitable. Topalov although slightly better on the clock miscalculated and overlooked the loss of a rook. He was forced to resign. Kramnik therefore becomes the 14th undisputed World Chess Champion, the first time this has occurred in 13 years. All the analysis, reports and photos can be seen on Chessbase, TWIC and ICC. In the face of great psychological pressure many believe justice has at last been done. Kramnik has come through the greatest test of his career and prevailed but what now for Topalov?
• Veselin Topalov website • Vladimir Kramnik website
.
---
The Unification world title match between Veselin Topalov and Vladimir Kramnik started on Saturday September 23rd 2006 in Elista. Interestingly Kasparov has predicted a narrow win for Topalov but he got off to the worst possible start losing with the black pieces in 75 moves.

The $1million prize fund will be split evenly between the players regardless of the outcome.
Both players can use their attacking flair to the full, possibly Topalov having the edge but despite the jibes at Kramnik's rather dull style he is a dangerous rival for Topalov. Their current FIDE ratings are Kramnik 2743 and Topalov 2813 (source: FIDE July 2006 ratings).
Kramnik returned to playing only six months ago after a serious illness, but said he was happy to contest the title. He said: "The whole world of chess has been waiting for this unification match for a long time. It is a big event for both of us. "I was happy when the President decided to arrange it here. Elista is a good place for a chess match because it is rather quiet and you need concentration. I prefer it to playing in cities like London or New York, where there are many things that can distract you."
Topalov said that he considered himself the only true champion as holder of Fide's title. "But the world champion should be ready to show that he is the best at all times and this is why I accepted the match. There was a lot of interest and there was money, so I thought 'why not?' "Things should be decided on a chess board and if you try to hide it doesn't work. The point is not only the title but to show everyone that you are the best."
Wikipedia has Kramnik and Topalov biographies with information about the town of Elista and the Kalmykia region.
| | | | | | | | | | | | | | | |
| --- | --- | --- | --- | --- | --- | --- | --- | --- | --- | --- | --- | --- | --- | --- |
| | FIDE | 1 | 2 | 3 | 4 | 5* | 6 | 7 | 8 | 9 | 10 | 11 | 12 | |
| Veselin Topalov | 2813 | 0 | 0 | ½ | ½ | 1 | ½ | ½ | 1 | 1 | 0 | ½ | ½ | 6 |
| Vladimir Kramnik | 2743 | 1 | 1 | ½ | ½ | 0 | ½ | ½ | 0 | 0 | 1 | ½ | ½ | 6 |
*Kramnik forfeited game 5
Rapid play

FIDE

1

2

3

4

Veselin Topalov

2813
½

0

1

0

1

½

Vladimir Kramnik

2743
½

1

0

1

2

½
Overall match score: 8½ - 7½ to Kramnik.
1st October 2006
The Monarch Assurance Isle of Man International 2006 was won by GM Alexander Areshchenko (Ukraine), winning on tie-break from GM Sergey Volkov. Both players scored 7/9. The women's prize was won by Elisabeth Paehtz of Germany. Gary Quillan (ENG) and Anna Zatonskih (USA) made IM norms.
.
15th Monarch Assurance Isle of Man International

23 September - 1 October 2006

Venue: The Ocean Castle Hotel, Port Erin, Isle of Man
.
26th September 2006
Liverpool Weekend Chess Congress 2006
This ran from Saturday 16th September - Sunday 17th September. Results round up available on the congress website. This event followed immediately after the EU event in the World Museum. Results and crosstable are still awaited for the Minor section.
24th September 2006
A Job Well Done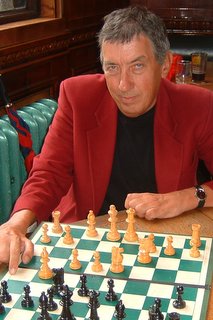 Professor David Robertson
There can be little doubt that the recently held European Individual Championships at the World Museum Liverpool was a great success. This was no fluke and was in very large part due to the courage, determination, diplomatic skills and hard work of Professor David Robertson, Head of the Public Policy Institute at John Moores University and chairman of the Liverpool Chess Foundation. Messages of congratulation have been flowing in many days after the chess finished. David was the driving force behind the event co-ordinating numerous disparate groups all with one common goal; to put international chess in Liverpool 'back on the map'. It was the strongest event in Britain for 20 years.
The tournament generated worldwide interest with over 18 million hits on the official site during the ten day event and over 750,000 viewers watched the live games each day. Press coverage has been extensive and links to the various articles by Malcolm Pein Telegraph, Jon Speelman Observer, Raymond Keene The Times and others can be seen on our forum. The first phase of David's long term aim "to position Liverpool as a 21st century city, via the catalyst of chess, showcased globally through the media and the internet", has been realised in style.
GM Nigel Short, Commonwealth Champion 2004, the eventual winner with 7½/10 declared himself "very chuffed" both with his own performance and of the organisers "I'm delighted to win; that was my objective but it has been immensely hard work and gruelling. I do hope this tournament is the start of something. I would like to see Liverpool become the chess capital of the UK."
18 Grandmasters and 10 International Masters competed in a field of 84 over 10 rounds. There were players from a number of European nations the majority being British and in addition to Nigel Short, Luke McShane and Stuart Conquest, together with Zoltan Gyimesi (Hungary) and Thomas Luther (Germany). International Masters Gawain Jones (England) and Stephen Gordon (England) both achieved their first GM norms scoring 7/10. The ECF declared the event 'a triumph for English chess'.
The Championships were sponsored by the Mersey Partnership, Liverpool John Moores University, the Liverpool Capital of Culture Company and the World Museum to whom our grateful thanks must go. We were also supported by the Friends of Chess and Kenyon Fraser marketing communications were responsible for the PR.
Daily reports, game downloads, crosstables, results and press details are available on the official website.
There are plans already taking shape to scale up next year by organising a yet more prestigious event. David has ambitions to turn his attention to other world-class opportunities. More information and details will be posted on this website and the forum in due course.
27th August 2006

Jonathan Rowson wins the 2006 British Championships with 8½/11
See a photo report on this website here.
Recognition for the Atticus Website
18th July 2006 - "As I mentioned in my follow-up to Sean's comment on my original article, a really good place to go to find out what is happening as regards the dispute between the NCCU and the ECF about the Northern Members' Scheme is the Atticus Chess website. I've put a link in too at BCM's links page but you can click here - http://www.atticuschess.org.uk/ .
There is a lot more excellent information to be found there too. While chess seems to be struggling in many parts of Britain, Merseyside is a shining exception. As well as the European Union Championships, which is being played in Liverpool from 6-15 September, it looks like they will be hosting an international tournament in 2007 and also the British Championships in 2008.
Also - if you are hard enough - you might consider visiting the Atticus Forum -
http://www.atticuschess.org.uk/forum/phpBB2/index.php . Actually, they are very friendly to visitors there, though chess officialdom often comes in for a verbal battering (quite deservedly so, in many cases). There are a lot of trenchant comments on the NCCU vs ECF battle but the great majority are well-argued and even-handed.
It took me hours ploughing through all the stuff on Atticus CC, but I think I am better informed as a result. Also, I feel generally uplifted by the open and honest debate, and the sense that there are still people out there working intelligently to improve the running of British chess.
At the risk of making it sound like a bottle of lager... it's probably the best British chess website" JS
For more of John's BCM blog click here http://uk.360.yahoo.com/bcmchess
EU Individual Chess Championships, Liverpool 2006
17th July 2006 - The list of entrants to this event is growing more impressive each day. GM Jonathan Rowson is now a certainty together with GM Luke McShane. Other possibilities are being negotiated. For more details including tournament conditions and entry forms, click here. Please note that immediately following this prestigious tournament is the Liverpool Congress 16th-17th September also at the World Museum. More information about this event will be posted here soon.
GM Aleksander Wojtkiewicz has died at 43
16th July 2006 - Aleksander Wojtkiewicz (January 15, 1963, Riga - July 14, 2006). He was Polish by nationality but was born in Latvia, USSR. He was jailed by the Soviets for two years because he refused to serve in the Soviet Army. When Poland regained independence he moved from Riga to Warsaw where he won two Polish Chess Championships.
He later resided in the United States. He was one of the most active players in the world, constantly flying around playing in chess tournaments. Several times he won the annual $10,000 first prize for Grand Prix chess tournaments in the United States.
Wojtkiewicz played in the FIDE World Chess Championship 2004. In his final months, he tied for first at the 2006 World Open in Philadelphia and won the 2006 National Open in Las Vegas. He died of liver problems.
Topalov tops July 1st FIDE Ratings
3rd July 2006 - With Kasparov "inactive" and no longer appearing on the FIDE rating list, Veselin Topalov takes top place with an ELO of 2813. Anand has dropped badly after a poor play at the Olympiad, but remains in second. Vladimir Kramnik, recovering from an illness, has climbed to fourth behind Levon Aronian. Full lists.
New moves in the English Attack
6th June 2006 - What's to be made of the news that our GM, Danny Gormally, was sent home from the Turin Olympiad 'for his own safety' after decking Armenian super-GM Lev Aronian for dancing with his love-interest, and then himself being duffed up by a posse of young Armenians? The Times published their version of the incident the day after. Many others followed including all the tabloids. For more online reports, click here.

How dare you take my queen? BY RAJEEV SYAL AND RAYMOND KEENE, 6th June 2006

Battle of the chess grandmasters as leading England player 'attacks' rival over dance floor move.

FOR one British grandmaster, his rival had made a move too far. Danny Gormally, one of Britain's leading chess players, allegedly attacked the world No 3 at an international tournament for dancing with a beautiful Australian player.

Levon Aronian, leading light of the Armenian chess scene, was apparently punched and shoved, and ended up on the floor during a party at the recent Chess Olympiad in Turin. He had been spotted jiving with Arianne Caoili, 19, an Australian grandmaster known as the Anna Kournikova of the chess world. Mr Gormally was known by team-mates to be fond of her.

But the next day, after the England captain apologised to the Armenian team, the repercussions continued. When Mr Gormally went out for a coffee with friends, he was attacked by a group of young Armenian players seemingly bent on revenge for their star player.

The unseemly events are expected to lead to an urgent inquiry by the English Chess Federation into Mr Gormally's behaviour. He was advised to leave the tournament early to avoid further confrontation.

Allan Beardsworth, the England captain, said that drink appeared to play a part. "Danny seems to have punched Aronian for innocently dancing with a girl that he liked. The following day, there was a retaliatory incident. It is a shame, and something that we will have to look into properly," he said.

The Olympiad is held every two years between 150 international teams and brings together the world's best players. While the tournament went badly for Mr Gormally and the England team, the Armenians eventually won.

The party was held four days ago at a nightclub called "Hiroshima Mon Amour". Mr Gormally, 30, from Durham, spotted Ms Caoili, with whom he had struck up an e-mail relationship, according to colleagues. They are also known to have met in London.

Ms Caoili, a child prodigy of Filipino descent who has ambitions of becoming a professional singer, was dancing "energetically" with Mr Aronian. She is ranked No 3 in Australia. Mr Aronian, 23, often referred to as a future world champion, is adored in his country where chess is the national sport.

For Mr Gormally, the sight of the pair dancing was apparently too much — but his actions were unjustified, according to Mr Beardsworth. "I have spoken to several people who were there, and there is no doubt that Danny was in the wrong. Aronian is a lovely guy and at the very peak of his national sport. I have been told that he is treated like David Beckham at home," he said.

The England team's management was informed of the incident and held an impromptu meeting. By 11am the next day, it had apologised to the Armenian team leader, who also happens to be the country's defence minister. There is no suggestion of any criminal inquiry.

Mr Gormally was informed, and hoped that the incident was over.

However, when he went out with friends for a coffee, he was spotted by young chess players from Armenia. "They set upon Danny — he was hit several times. Luckily, one of the team-mates with Danny could speak Russian and managed to calm them down," Mr Beardsworth said.
Denis Jessop, president of the Australian Chess Federation, said that he may launch his own inquiry. "I have heard that an incident took place and that Aronian was thumped and that it was over Arianne.

"I am not surprised at anything that chess players do. It is not the first time that there's been an argument at a chess tournament and people have hit each other," he said.

Mr Gormally, 30, a professional player, declined to comment from his home, where he lives with his parents. On asked why he had been sent home, he replied: "It's personal. It's nothing to do with you."
After you've scanned the world's front pages and stopped laughing, you'll be glad to know Danny's back home where he belongs - with his Mum. Meanwhile the love-interest, 19 year-old Filipino-Australian Arianne Caoili is refusing all calls and has gone off to play chess in a remote Italian town.
So who is Arianne Caoili, the woman in the middle of this slugfest?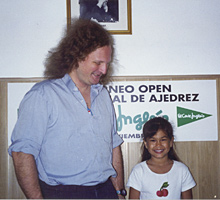 First off, Arianne Caoili is a genuine chessplayer, has been since she was a kid, and is now a WIM. Here she is ten years ago with the late (and great) Tony Miles, Britain's first official GM.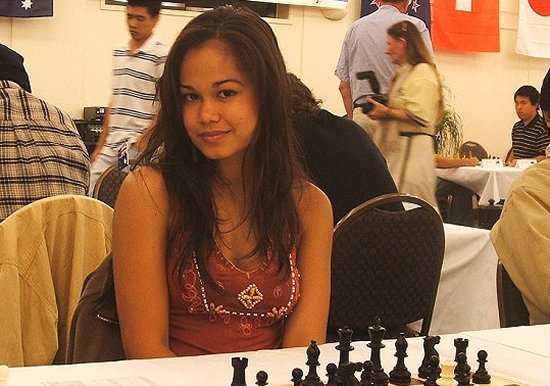 However, girls grow up (which is more than can be said for some male GMs). By the time of the Australian championships this year, she looked rather different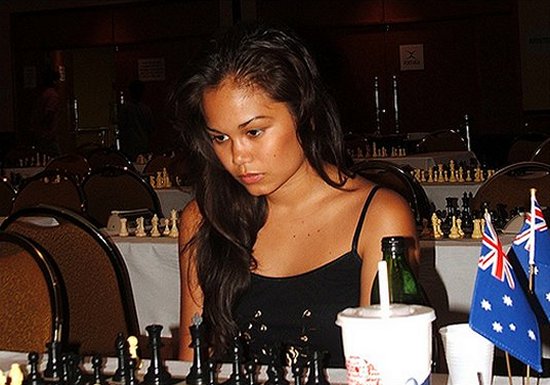 ....indeed, very different!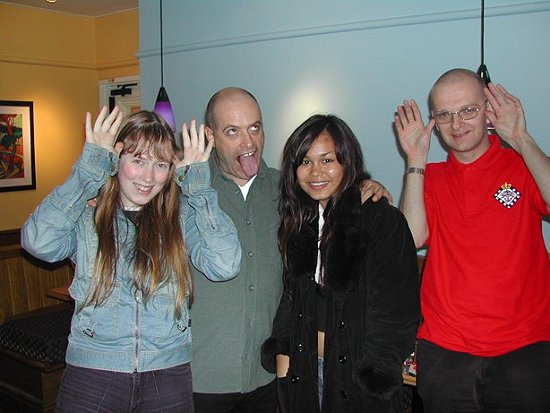 She looks different here too. Arianne is the one not auditioning for permanent residence in a mental hospital. The others are, from left to right, Heather Richards, England women's international and occasional player for Liverpool this season; GM Keith Arkell, conforming to standards frequently observed in male GMs; and the other bloke is IM Lawrence Cooper.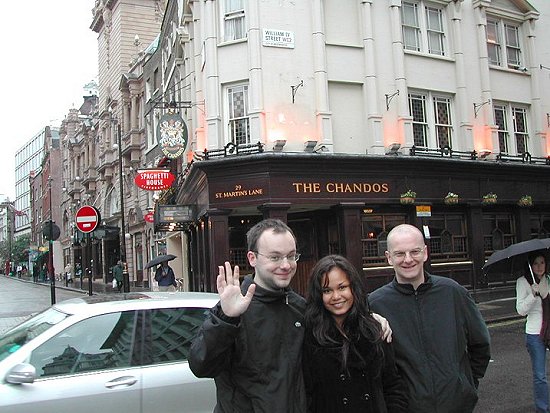 Danny Gormally and Arianne in happier times. Danny (on the left) looks suitably self-satisfied as he 'hi fans' the camera. Little does he know, but there's a gang of jealous Armenians getting tanked up in the pub across the road, just waiting for the rain to stop before lamping him. I don't think Mr Cooper (right) looks like he'll turn the tide if that happens.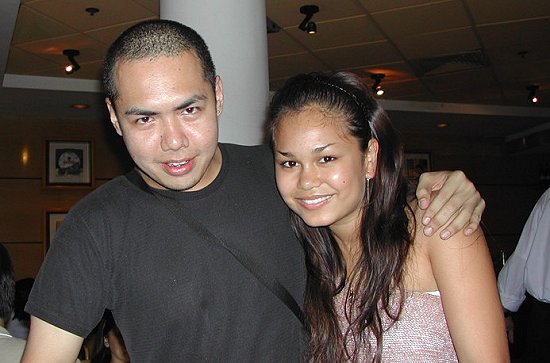 But let's hope Danny never sees this photo. If the Armenians don't get him, this bloke looks like he could. Then again, if Danny's up for smacking an Armenian national hero, he might be ready to take on the entire Filipino army. Who knows with fighting spirit like his!
For more gossip, visit our Forum Gormally thread here. Contributions positively encouraged!
'Danny boy' Gormally captions
6th June 2006 - Can you think of a caption for either of these? Just a bit of fun (keep it clean). Entries to the webmaster or posted on our forum in the Gormally thread.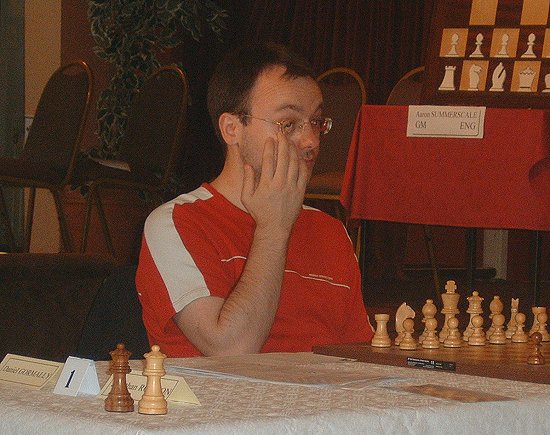 'He hit me right there......officer'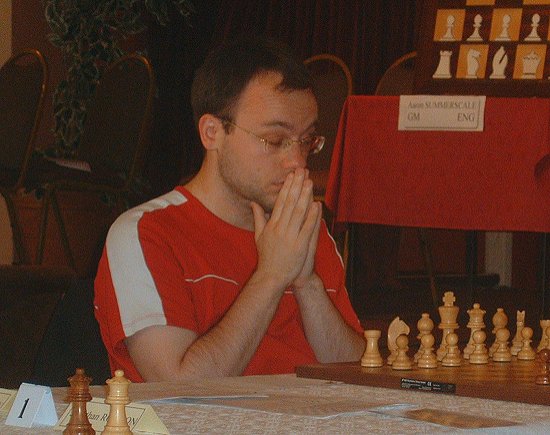 'Dear Lord, please make them go away'
'Please God, turn Aronian into a patzer'
'Oh no, what have I done!'
'Must remember what Arianne said: 'Guys who pray are the ones I lay"
'Dear God, no more Olympiads/Armenians/Sveshnikovs'
You get some idea of what FIDE is like from this pic. This politburo-style line-up is actually called the FIDE Central Committee. Given that one third of the players in Turin were women, you might have expected at least a small nod in the direction of gender equality. Think on; you'll get none from this dismally blokish platform. It remains to be seen, now that the votes are in the bag, whether Ilyumzhinov will honour an undertaking made during the election campaign to fund a Kramnik-Topalov world title unification match. We shall see; and so will the space aliens.
Turin 2006 data and results