British Championships 2006
Jonathan Rowson wins his third British Championship.
Reigning British Champion Jonathan Rowson has retained his title with a score of 8½/11 and takes away a cheque for £10,000. He beat Jonathan Parker in an exciting last round game sacrificing pawns for a positional advantage. This is Rowson's third successive title, the first time it's been achieved since 1969 when Penrose won the last of his ten titles (he won won six and then four titles in successive years). Rowson has won the British Championships in England, Isle of Man and Wales but not Scotland.......yet! In the game between the players on 7, Ketevan Arakhamia-Grant beat Nicholas Pert in a tense game (she was shaking for much of it!). She finished a clear second in the championship, the best performance by a woman player in the history of the British Championship. In addition to a cheque for £5,000 she also took the British Women's Championship title, her third in a row (it was not competed for last year). Final scores: 1st J. Rowson 8½/11, 2nd Ketevan Arakhamia-Grant 8, 3rd-6th J. Parker, D. Gormally, M. Hebden, G. Jones 7½, 7th-13th N. Pert, B. Lalic, R. Pert, N. Davies, C. Ward, S. Haslinger, R. Palliser 7.
British Championship: Crosstable and final standings. All 342 games in PGN. DGT Game Viewer
Major Open: Crosstable and final standings. All 372 games in PGN. DGT Game Viewer
Junior Events: Crosstables and final standing for all junior events. 532 games in PGN. DGT Game Viewer
One of the more striking features of this years ECF congress was the large number of junior competitors including many girls. There behaviour throughout was excellent and their willingness to help each other and work the demo boards was exemplary. Peter Purland and his assistants can be justly proud. Quite a few players competing in the 'adult' tournaments had children playing at the same time in their respective events emphasising the sense of family that this congress always generates. International Master Malcolm Pein who's own son Jonathan played in the U8 championship entertained a large group of energetic children with what looked like an impromptu athletics meeting on the main lawn during their free time between rounds. With over 770 competitors this one one of the most enjoyable and well run British Championships for a long time.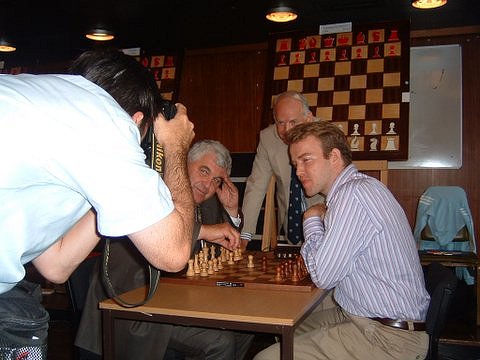 The Deputy Mayor of Swansea and Jonathan Rowson pose for the opening move.
The Vice Chancellor looks on.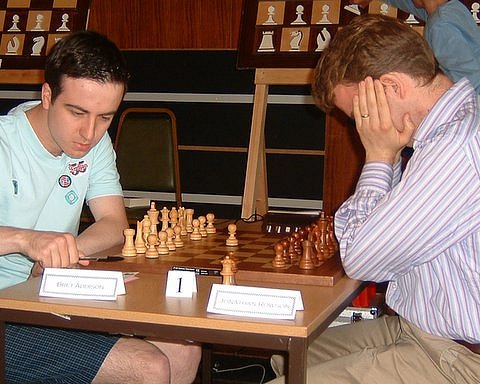 Rowson starts his title defence against FM Brett Addison. A smooth performance by
him saw an unstoppable kingside attack in 34 moves.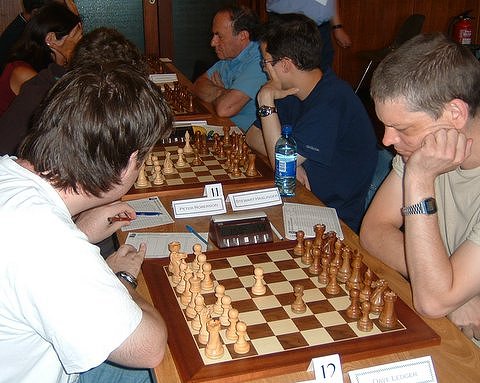 IM Gawain Jones (left) in play with David Ledger in round 2. In the background is
IM Stewart Haslinger (dark blue top) and veteran US IM James T Sherwin.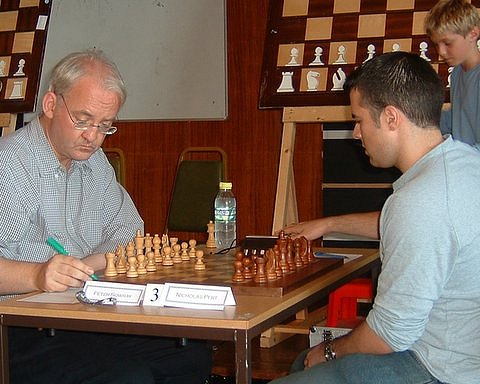 4NCL Webmaster and FM Peter Sowray starts play against GM Nicholas Pert in
round 2. Black won a closely contested R+P ending after 63 moves.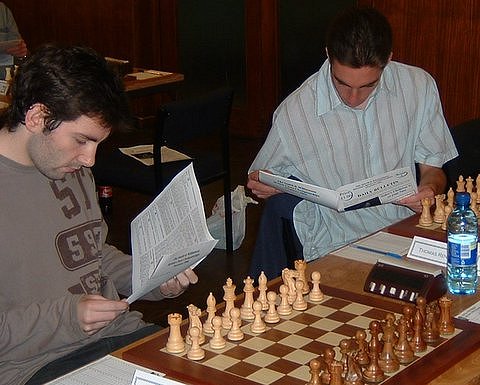 Adam Ashton and IM Thomas Rendle (right) read the ever popular congress bulletin
before starting play in round 4.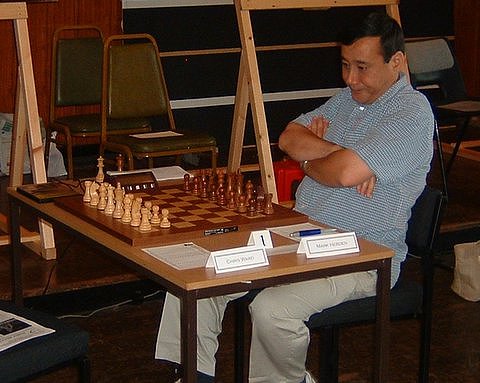 Mark Hebden making his final mental preparations before the start of round 4 and
his encounter against GM Chris Ward. This fabulous game involved 4 queens on the
board at the same time! Eventual result 0-1.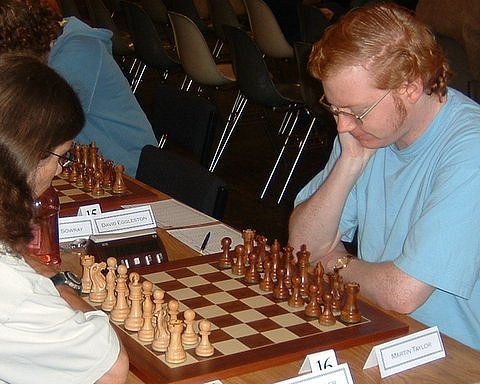 FM and time trouble addict Martin Taylor (right) about to start play against Simon
Fowler in round 4. The game was drawn in 53 moves.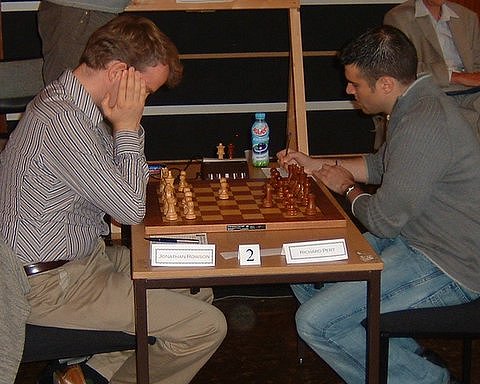 GM Rowson in play with IM Richard Pert in round 4. This was a close endgame
encounter of the NvB kind! Pert's active Bishop unable to stop Rowson's even more
active N and queenside passed pawn.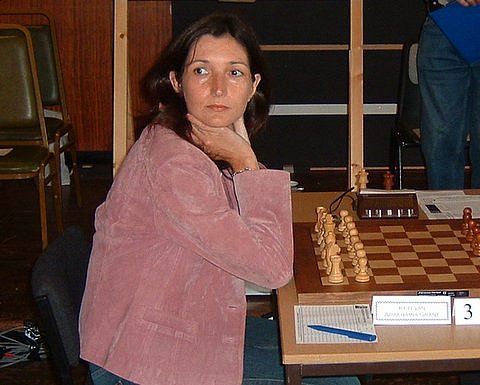 IM Ketevan Arakhamia-Grant looking reasonably calm prior to her fourth round
encounter with GM Nigel Davies. The game was agreed drawn after 67 moves.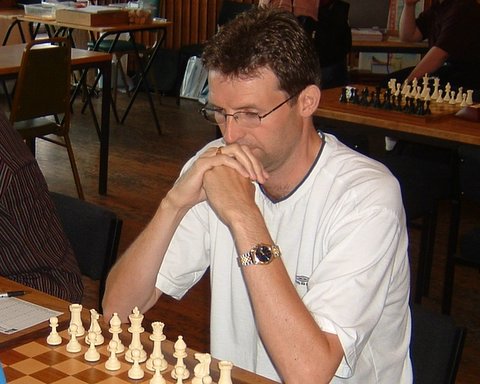 Don Mason about to start play in round 4.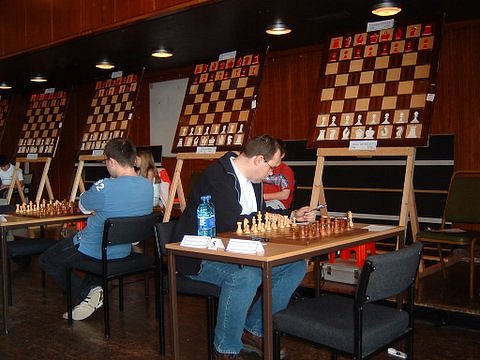 FM Maxim Devereaux prepares his scoresheet while he awaits for the arrival of
GM Jonathan Parker for the start of round 5.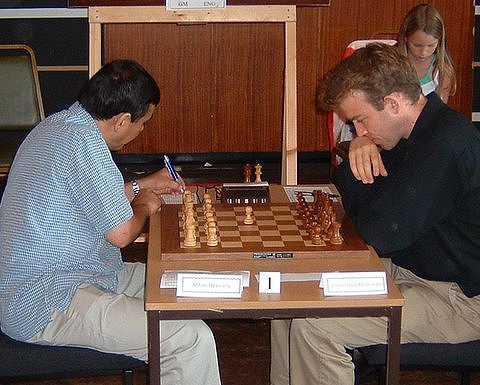 GM Mark Hebden starts play with 1.d4 against Jonathan Rowson in round 5. This
exciting game was eventually drawn after 47 moves.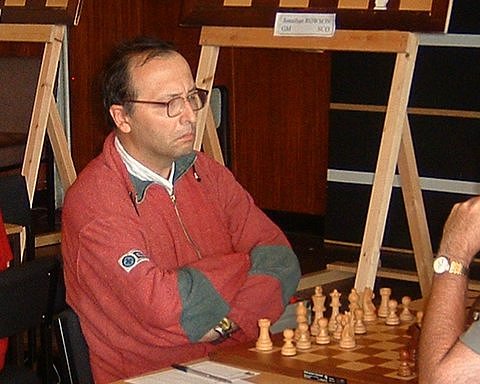 Croatian GM Bodgan Lalic in his familiar pose.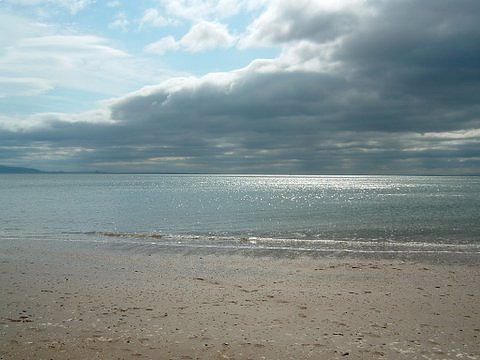 Swansea bay, a stones throw from the University campus. On clear days the
Devonshire coastline was easily visible.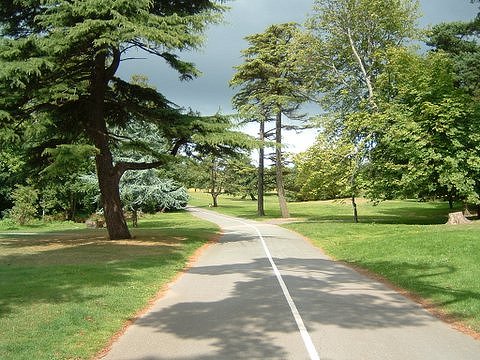 Swansea University is adjacent to the very picturesque and tranquil Singleton Park.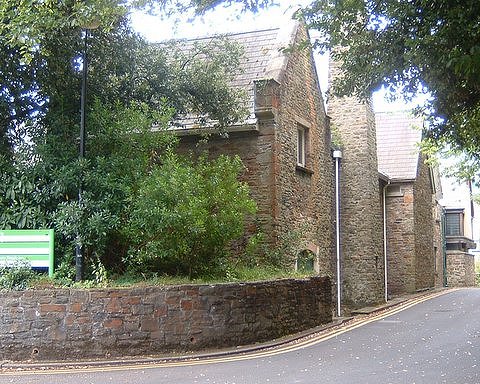 Some of the oldest buildings on the campus.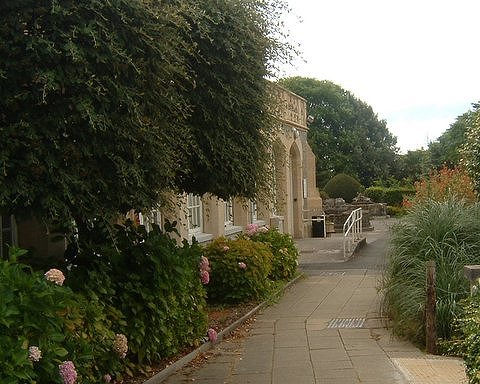 University chapel and gardens.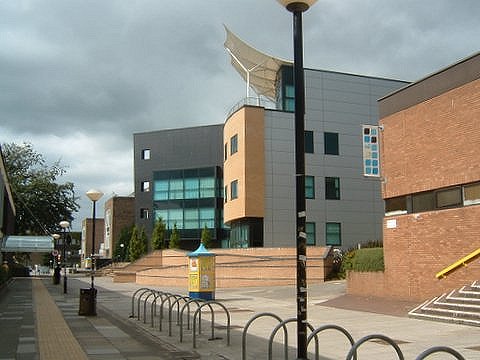 Some of the new buildings on the campus. To the left is the entrance to the brand
new, 'state-of-the-art' Faraday Lecture theatre where the prize giving was held.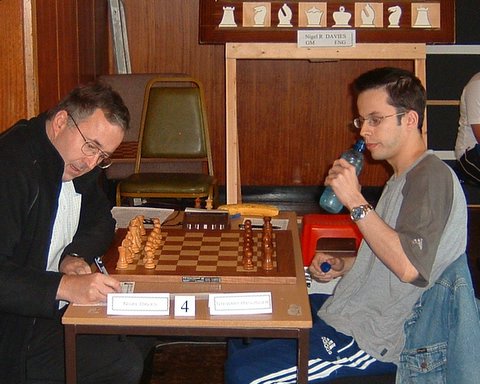 GM Nigel Davies (left) getting ready to play IM Stewart Haslinger in round 5. Black
won comfortably in 39 moves.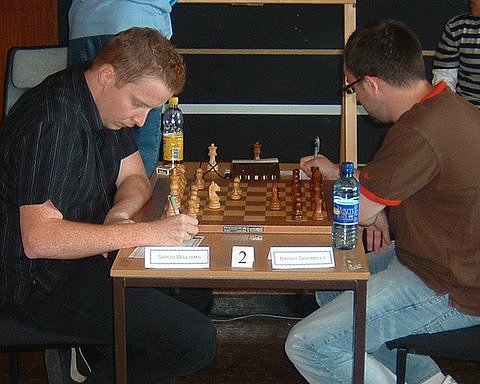 IM Simon Williams (left) plays England Olympiad team member GM Daniel
Gormally in round 7. After 5 hours and 78 moves, White resigned.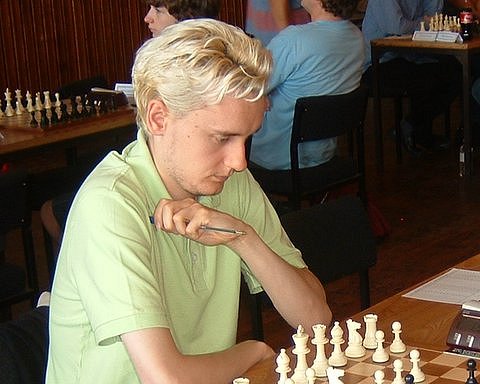 FM Jack Rudd in play during round 7.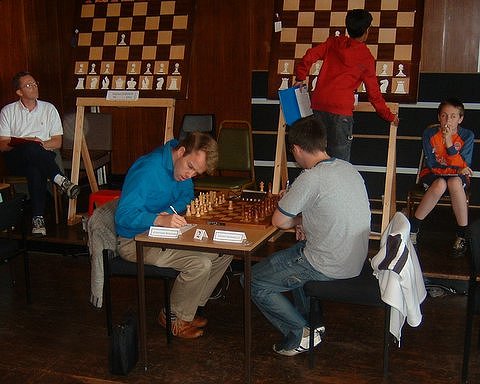 GM Jonathan Rowson plays 1.d4 against Daniel Gormally in round 10 and won
impressively in 35 moves.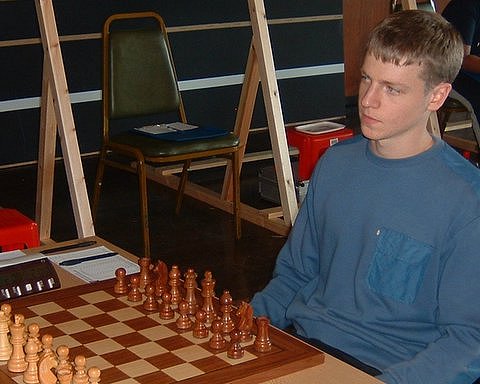 IM Stephen Gordon waits for Gormally to arrive for the start of round 11.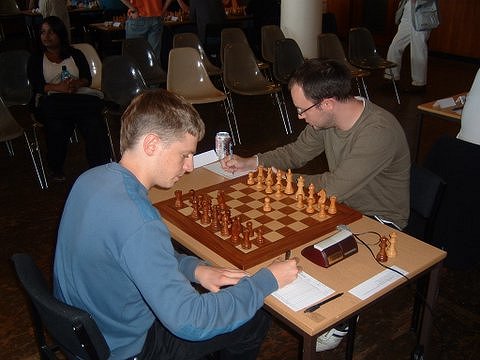 The game starts with 1.d4 Following a brisk Kingside attack, White eventually won.
IM Stewart Haslinger in relaxed mood prior to his final game against fellow IM
Graeme Buckley. Stewart won convincingly in 37 moves with a powerful Kingside
attack.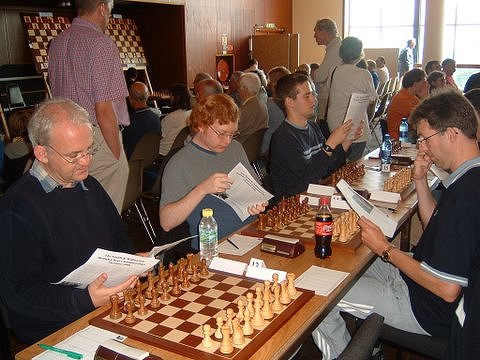 More last minute bulletin swotting before the chief arbiter checks his watch at
2.15pm and says "Will you please start white's clock?" to begin the final round.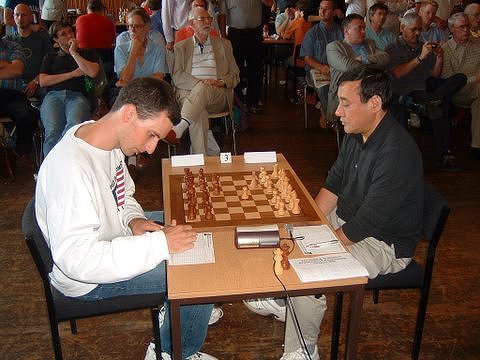 IM Andrew Greet and GM Mark Hebden during their final round game. Hebden won
a fine R+P ending in 67 moves to guarantee a share of the prize money.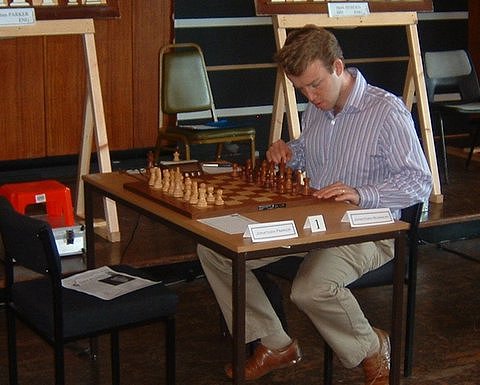 Rowson arrives and immediately straightens the pieces for the final game.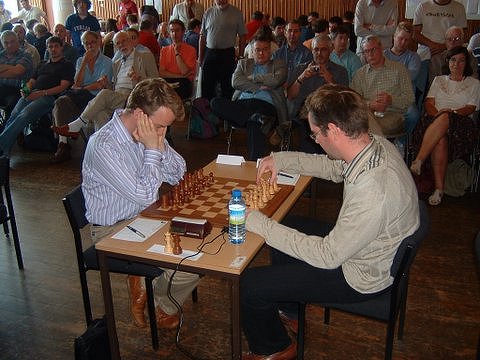 Last round showdown between GM Rowson and GM Parker. The result of the game
would determine the championship winner. Rowson prevailed, the game was
awarded the 'Alexander Best Game' prize.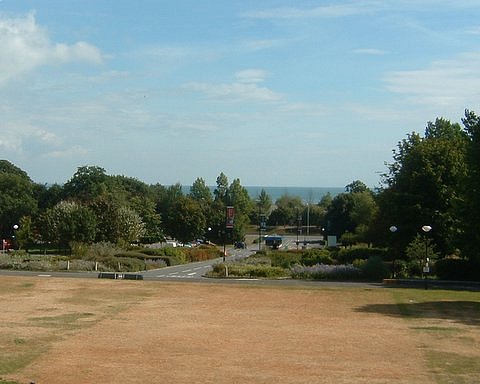 A view of Swansea bay from the balcony at the front of the Fulton House building
where the Championships were staged.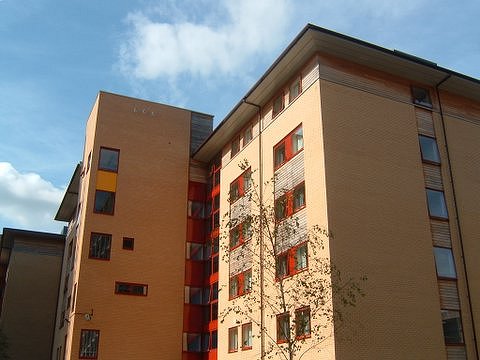 The brand new accommodation at the University made our stay very enjoyable.
The Major Open ran concurrently with the British Championship. Jonathan Hawkins
(left) Elo 2225 won the event with 9/11.
The Major Open was very popular with a total of 71 competitors.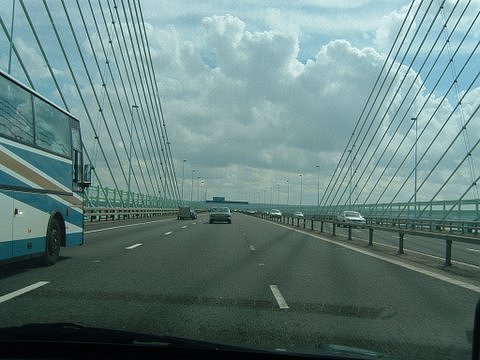 Travelling across the impressive Severn bridge linking Wales with England. Just be
aware of undertaking coach drivers!
Photos © SJConnor 2006. All rights reserved.