News Archive - 2007 [2013 2012 2011 2010 2009 2008 2006]
18th Nov 2007
Aronian and Carlsen win Corus
This fantastic tournament was held from 11th - 27th January 2008 in Wijk aan Zee, Holland. Five of the top six in the world went head to head. Mickey Adams is playing in the A group and Nigel Short in the B group. Latest: (courtesy of BCM) Round 12 - Magnus Carlsen beating Vladimir Kramnik was the game of the day. He has rejoined Aronian in the lead. Scores: 1-2 Aronian, Carlsen 7½/12, 2-3 Anand, Radjabov 7. View/download games. • click here for Steve Giddins' round reports.
18th Nov 2007
British Rapidplay Championships 2007
This event took place on Saturday and Sunday 17th - 18th November at the North Bridge Leisure Centre, Halifax in association with the English Chess Federation. Further details of the event including winners are on the official site.
.
| | |
| --- | --- |
| Saturday 17th November | Sunday 18th November |
| Round 1 1200 - 1300 | Round 07 0930 - 1030 |
| Round 2 1330 - 1430 | Round 08 1100 - 1200 |
| Round 3 1500 - 1600 | Round 09 1230 - 1330 |
| Round 4 1630 - 1730 | Round 10 1415 - 1515 |
| Round 5 1800 - 1900 | Round 11 1545 - 1645 |
| Round 6 1930 - 2030 | . |
.
1st Oct 2007
Monarch Assurance International 2007
The Monarch Assurance Isle of Man International took place at the Ocean Castle Hotel, Port Erin, from 22nd-30th September and featured a very strong masters event, plus major and minor sections. Sadly, this was to be the last Isle of Man International to be sponsored by Monarch Assurance but it will continue under different sponsors.
The line-up was headed by GM Krasenkow and 2006 winner Alexander Areshchenko. From the UK there was Jon Speelman, Mark Hebden, Peter Wells, David Howell, Danny Gormally, Stewart Haslinger amongst others. The women's line-up included German IM Elisabeth Paehtz Elo 2457. The official website had games, results, reports and photos from the event with regular daily updates.
30th Sept 2007
Anand is undisputed World Champion
A straightforward 20-move draw against Peter Leko was enough to give Indian GM Viswanathan Anand the title of undisputed World Champion 2007. The tournament was held in Mexico City. Kramnik beat Aronian in an excellent game to move into second place.
The final column of the table shows the tiebreak scores, according to Sonneborn-Berger. A player's SB score is calculated by adding the sum of the conventional scores of the players they have defeated to half the sum of the conventional scores of those they have drawn against. According to this system Vladimir Kramnik is second, beating Boris Gelfand by 0.25 SB points.
The World Championship 2007 took place from September 12th to 30th in the Sheraton Centro Histórico Hotel in Mexico City. Eight players qualified – the tournament was a double round robin. The prize fund was US $1.3 million.
Download all games in PGN. Excellent photo and round by round reports on Chessbase.
John Saunders, BCM Editor, 'In many ways the tournament turned out the way widely predicted. Kramnik won his last game to make a score of +2, which is usually enough to win Dortmund - or indeed his match against Garry Kasparov in 2000 - but it was never likely to be enough to win a tournament of this length. Most pundits expected Anand to score better than that and he did so by scoring +4. However purists will argue that four games won against four non-champions in the bottom half of the table is not what a proper world chess championship is all about. Let's hope that the prospective match between Anand and Kramnik happens in 2008 as envisaged and that the traditional matchplay formula will thus be resumed and maintained'. Hooray to that!
24th Sept 2007
4NCL Season starts
Divisions 1, 2 & 3 started over the weekend of 15th-16th Sept at the De Vere Venues, Sunningdale. See some photos (more added 18/9). Match results, tables and PGN games available on the official site.
25th August 2007
IBCA Euro Championships, St. Aidan's College, Durham
The tournament takes place between 13th - 24th August 2007 at St Aidan's College, Windmill Hill, Durham (part of Durham University). This event is played over nine rounds.
Games start daily at 13.45 BST. There are 6 IM's, 4 FM's and 1 WM taking part in a total list of 76 players.
3rd June 2007
Candidates Matches 2007
The Candidates Matches for the 2007 World Chess Championship are being held in Elista, Russia, from May 26th to June 14th. Sixteen candidates play two rounds of six-game matches to fill four places in the 2007 World Championship in Mexico City. The prize fund is US $40,000 per match, most of the money ($320,000) coming from a personal fund of FIDE President Kirsan Ilyumzhinov, FIDE ($160,000) and the general sponsor, Rosenergomash. Britain's highest rated GM Mickey Adams 2734 is playing Alexei Shirov 2699. Having White in the first round, Mickey stands a reasonable chance of winning but Shirov is an experienced and gritty player. For more news and photos visit the Chessbase website.

.

.
Match (8)

FIDE

1

2

3

4

5

6

1
2
3

Alexei Shirov, ESP

2699
½
½
½
0
½
1

3

TB

1
1
½
2½

Michael Adams, ENG

2734
½
½
½
1
½
0

3

0
0
½
½
3rd June - Mickey Adams lost his match with Shirov after a brave performance. The tie-break match took place today but Mickey lost it 2½-½ (best of 4). He was within a whisker of going through after game 5 of the main match, he needed a draw in game 6 but defended with a Petroff and lost. With the match even at 3-3 they prepared for the tie-break. Mickey lost the first 2 games and had to win the third to survive but could only draw. Shirov now goes on to meet Aronian who narrowly beat Carlsen also after an exciting tie-break match. See the official website for more details. All games so far in PGN including the Rapidplay and Blitz.
21st May 2007
Mtel Masters 2007.
There were 6 participants (including our own Mickey Adams Elo 2734), in this double round robin tournament that ran from May 10th to 20th. Time controls: 2 hours for 40 moves + 1 hour for 20 moves + 30 minutes to the end the game. The players were not allowed to offer draws, they had to consult the arbiter, who decided what would happen. Detailed pairings and games were posted on the official site, Playchess, ICC followed events daily. Chessbase (Steve Giddins)provided analysis with extensive photo reports with links to game downloads. See all games in PGN.
11th March 2007
Morelia/Linares 2007
The Morelia/Linares began on 17th February. The first half took place in Morelia, Mexico from 17th - 25th February transferring then to Linares, Spain where play continued until 10th March. The players involved were some of the highest rated in the world: Topalov (2783), Anand (2779), Ivanchuk (2750), Leko (2749), Aronian (2744), Morozevich (2741), Svidler (2728), Carlsen (2690). Radjabov was due to play and in the original group but following a burglary at his father's hotel in Patzcuaro, Mexico on 10th February he withdrew. He was clearly upset saying that the local police did not investigate the crime and that neither he or his father received support from the organisers. Rather fortuitously for the organisers, Ivanchuk who was in Morelia at the time was prepared to step in and replace Radjabov. More news including daily express reports and game downloads are available on Chessbase and BCM.
Final Standings

Official Linares website.
1st February 2007
Gibtraltar Masters 2007
The annual Gibtelecom tournament has finished with first place going to GM Vladimir Akopian who beat Yuri Kuzubov aged just 16 in only 23 moves to finish on 7½/9. Sutovsky, Nakamura and Areshchenko finished 2nd= on 7/9. English IM Thomas Rendle's last round draw with Gurevich secures him a GM norm, his first. Final crosstable. Throughout the tournament Stuart Conquest provided fabulous live commentaries. The website also has PGN downloads from each round plus news reports and photos.
28th January 2007
Corus 2007
The annual Corus GMA, B and C tournaments in Wijk aan Zee Holland have ended. The GMA event finished in a three way tie for first place between GM Levon Aronian (ARM), GM Teimour Radjabov (AZE) and GM Veselin Topalov (BUL). Radjabov and Topalov drew their game in a rather unusual and cautious way and Aronian beat Tiviakov. Kramnik the current World Champion finished with 8 only half a point behind the leaders. He beat Van Wely in fine style in the last round whilst Svidler lost to Karjakin.
CORUS A Wijk ann Zee NED 2007
Final standings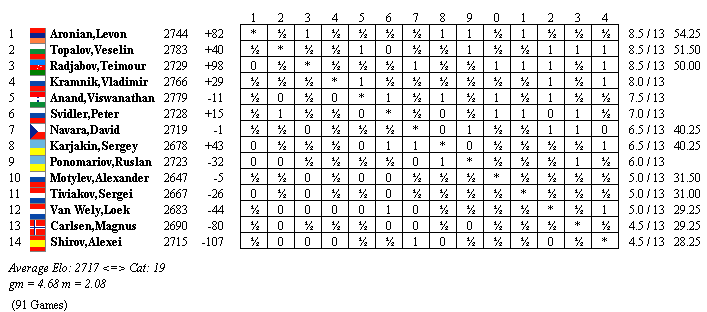 CORUS B Wijk ann Zee NED 2007
Final standings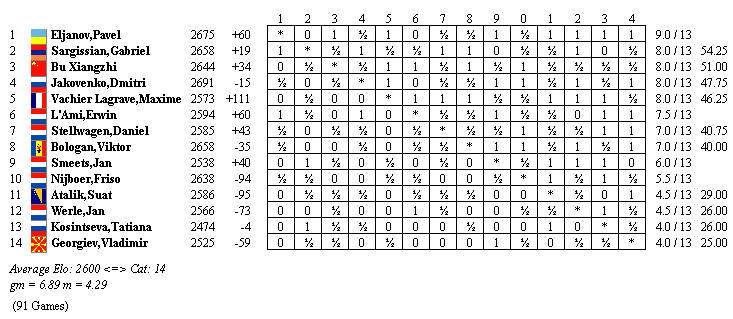 CORUS C Wijk ann Zee NED 2007
Final standings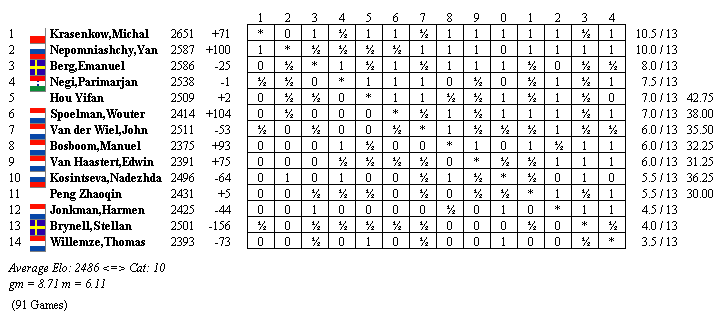 View games (all sections) Download games (PGN, all sections) Official website: www.coruschess.com Video Reports: www.chessvibes.com Additional info. on the BCM website, Chessbase and TWIC.